Welcome to The Bestseller Experiment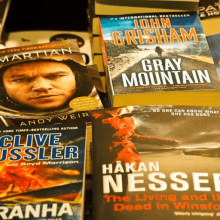 Fifty-Two Weeks, Two Marks, One Bestseller?
How do you write a bestselling novel? Author and screenwriter Mark Stay ("Robot Overlords") and recording artist, coach and wannabe author Mark Desvaux start a year-long book-writing experiment to discover the answer to that very question. Guided by million-selling authors, publishers, online experts and the audience, these two crash-test authors attempt to uncover whether a formula exists. Or is it really in the hands of the literary Gods?
Will it be a happy ending or a car-crash waiting to happen? Join the Marks on their weekly podcast to learn, laugh and discover the next twist in the plot.  If you've ever wanted to write a book, who knows… maybe you'll get inspired to write your own bestseller?
---
About the Marks
London-based author and screenwriter Mark Stay co-wrote the screenplay "Robot Overlords" which became a $20m movie with Sir Ben Kingsley and Gillian Anderson, proving literally anything is possible. Having worked in publishing for over twenty years, Mark is an "author-on-the-inside" and has seen the beauties and harsh realities of the publishing industry.
On the other side of the pond in Vancouver, fellow-Brit, bestselling recording artist and wannabe author Mark Desvaux has started twenty books and almost finished the second chapter of one to them. As an eternal optimist and someone who coaches people to follow their dreams, Mark D is fascinated by the parallels between the music and publishing industries. Signed to Warner, with critically-acclaimed albums (Urban Myth Club) and appearances at festivals such as Glastonbury, he wonders if it is possible to translate his success as a recording artist into the book world.